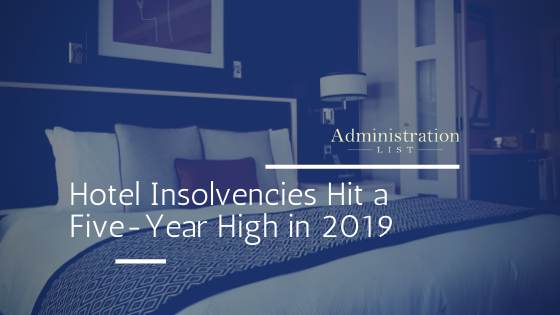 Weak growth in the UK economy, especially in the hospitality sector, has resulted in a spike in insolvencies for hotels, according to new data from chartered accountants UHY Hacker Young.
There was a 60 per cent jump in hotels experiencing insolvencies in the year to September last year, affecting as many as 144 sites, compared to 90 during the same period in 2018.
The news comes just after data from IHS Markit suggested that the services sector of the UK economy, of which hotels are a part, is stagnating, after a weak performance in 2019 as a whole. Its underperformance is largely due to uncertainty over political deadlock and underlying concerns over Brexit.
Much of this economic disarray has caused there to be a growing number of businesses in distress across the economy, irrespective of the sector – read more about our guide for buyers, and how they should respond.
Staycations and spiralling costs
Not only did weak economic growth result in this sharp rise in hotel insolvencies last year – the hospitality sector has also been grappling with issues like competition from groups like Airbnb, which have become popular alternatives.
The growing number of available rooms for consumers to stay in has stemmed from a boom in the number of cheaper competitors, causing accommodation prices to drop.
The hospitality sector has also been struck by pressure on margins, with a rise in import costs, as well as hikes to the minimum wage and business rates. Weaker sterling has increased the cost of food and drink imported from abroad, while growing competition has made it harder for hotel brands to pass the rising costs onto consumers without losing business – something of a vicious cycle.
A hike in the National Living Wage, by five per cent in April 2019 also helped contribute to a rising burden of costs for hotels to handle.
If you're curious about buying a business out of insolvency the right way, check out our step-by-step guide, on how to search for the perfect business that suits your search parameters.
Opportunities as well as risks
The growing number of hotel chains facing insolvency offers a great opportunity for many to invest and buy, but it's also important to be mindful of the overall economic trend.
One of the main drivers behind the rising insolvencies for businesses in the hospitality sector is their inability to move with the times. Advances in technology make it easier for consumers to bypass traditional means of finding accommodation such as hotels, in favour of quicker and cheaper alternatives, through the use of smartphone apps.
An increasing number of Brits are opting to avoid going abroad, preferring to have so-called staycations instead.
This might sound like a ray of sunshine for UK-based hotel chains but despite this, UHY Hacker Young noted that demand continued to remain weak in the hospitality sector, due to the number of overseas tourists falling, by three per cent in 2018 alone.
The hospitality sector is just one of many facing a rising number of distressed businesses in the last year – for more information about distressed businesses that could be ideal for acquisition, stay ahead of the game and check out our list here.