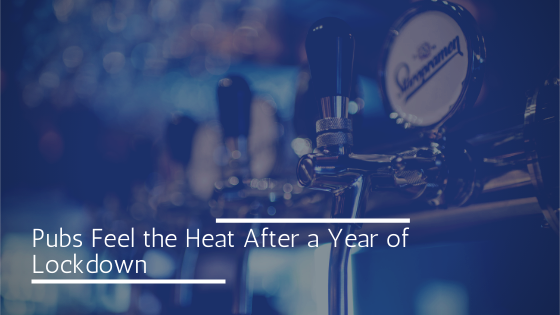 Even before the COVID-19 pandemic reached UK shores, pubs were estimated to be vanishing at a rate of 14 pubs each week, according to the Campaign for Real Ale in 2019. A changing attitude towards alcohol, increasingly cheaper alcohol products in supermarkets and high levels of tax on beer are just some of the factors cited, when looking for a possible cause of the decline of British pubs.
Now, pubs are facing another setback due to lockdown, having missed out on making the most out of potential revenue-raising events including last Christmas, Valentine's Day and Mother's Day this year. Less footfall means the pubs that survive will need to be creative to prosper in the future.
Pints and meals gone unsold
The British Beer & Pub Association estimates that pubs would make substantial financial losses from missing out on having customers walk through their doors this Mother's Day. Traders could expect to lose out on £83 million in sales, purely due to a lack of potential custom over Mother's Day 2021.
The date is often popular especially for families to go out for a meal to celebrate the event, but for the second year in a row, pubs were vacant when Mother's Day came around. Takeaway pints could have been a possible way of helping pubs keep their tills ringing, but this option remained out of reach, owing to restrictions which are expected to ease only from April onwards.
Last summer, pubs were considered eligible for the government's one-month-only Eat Out to Help Out scheme from 3rd-31st August 2020, allowing them to offer 50 per cent discounts on food and non-alcoholic beverages every Monday, Tuesday and Wednesday. However, the controversial scheme came to a close, and the second lockdown later in 2020 pushed vulnerable pubs closer to the brink.
The future of pubs
By 2018, it was estimated that the UK had lost 25 per cent of its pubs since 2001. Real estate firm Altus Group claimed pubs were shutting at a rate of 37 per month in 2020, with just 40,617 venues liable for business rates across England and Wales, including those left vacant or offered to let.
Those which close are often renovated or demolished entirely, allowing for the construction of apartments, allowing real estate development to gain at the expense of the leisure and hospitality sectors. Something which has proved to be a lifeline for many pubs over lockdown was a one-year business rate holiday, costing the government £768 million.
Furlough schemes for staff, as well as grants and CBILS loans have also helped keep a lid on the number of closures for the time being.
The pubs left standing in the wake of the pandemic could soon find rich pickings, in the form of potentially more customers looking for a refreshing drink among a smaller pool of available pubs. Decisions made in the present could prove instrumental in ensuring their success in pulling the punters back for a long-awaited post-lockdown pint.